Overview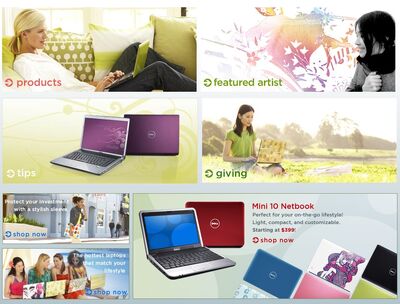 In 2009, Dell launched a site aimed at women, advertising their laptops, an example of sexist advertising and pigeonholing. Called "Della", the site uses soft-focus, pastel colours, and highlights the fact that Dell computers come in various colours and skins to "match your lifestyle". The "Tech tips" page contains such non-technical drivel as:
"Get moving: Tools like Gyminee help you track workouts & reach your fitness goals. You can even map out new running routes via sites like Map my run. Improve your mood by listening to music, viewing pictures, or even watching a movie."
and
"Get up & travel: Your lightweight, packable netbook can transform your traveling experience, whether you're commuting across town or backpacking the globe. Use your netbook to vlog and blog about your journey; translate your blogs into other languages; help you convert currency; track the weather; collect, edit and upload photos; entertain you in airports, trains and buses."
The above quotes are from the site circa May 13th, 2009, *after* the editors had removed even more sexist items like
"Once you get beyond how cute they are, you'll find that netbooks can do a lot more than check your email."
and
"Eat better: Find recipes online, store and organize them, and watch cooking videos."
The above two quotes are taken from the Salon article linked below.
Previous incidents
This is not the first time Dell has produced sexist advertising. In 2008, Feministing reported Dell sells laptops to women as beauty accessories.
Commentary
Community content is available under
CC-BY-SA
unless otherwise noted.