In March 2010, Angie Byron proposed that the Drupal.org profile page have the gender options expanded to "Male, female, transgender, other" to be more inclusive of people who do not conform to a gender binary. (See also: Transgender, LGBT issues)
The original proposal: Expand options in the "Gender" profile field
Discussion ensued, with various arguments being put forward in favour or against the plan. Some people preferred other options, some preferred that the question not be asked at all, some maintained that a male/female binary should be sufficient, and some claimed that if demographic information was desired, then race and income should also be on the profile page.
Additional proposals quickly followed:
The original proposal was implemented fairly quickly, which may have been fortunte because debate stalemated further action, and may have stalemated all action.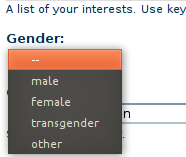 Comment threads
Alternative suggestions
A number of alternative suggestions were offered in the comment threads, including:
removing the gender question altogether
variations in phrasing ("transgender" vs "other" vs "it's complicated")
allowing multiple selections (eg. "transgender" AND "female")
allowing freeform text
asking the user to specify preferred pronouns instead of gender identity
Problematic responses
Unfortunately, the comment threads demonstrated a considerable level of cis-privilege and/or transphobia, as well as sexism. Some problematic comments included:
References
Community content is available under
CC-BY-SA
unless otherwise noted.